Frequently Asked Questions
---
Do you need more information about Florida 511 or how to use our various platforms? Browse through our Frequently Asked Questions, organized by platform. If you don't find your answer here, contact Florida's 511 Traveler Information System by filling out the Contact Us form.
What is Florida 511?
The Florida Department of Transportation's (FDOT) Florida 511 (FL511) Advanced Traveler Information System (ATIS) provides real-time traffic information, including up to three routes to choose from, travel times for requested routes, congestion, construction, lane closures, severe weather and emergency evacuation information on Florida interstate highways, toll roads including Florida's Turnpike, and many other major metropolitan roadways. The resource is available 24 hours a day on the web at www.FL511.com and on the mobile application for Apple and Android devices. The website is available in English and Spanish. Drivers can follow any of the statewide, regional or roadway-specific Twitter feeds (#FL511), such as @FL511_Northeast, @FL511_I10 and @FL511_ I95. Also, follow us on Facebook, @FL511, and our Instagram, @Florida_511.
When and why was FL511 initiated?
The U.S. Department of Transportation petitioned the FCC in 1999 for a three-digit dialing code to make it easier for motorists to access travel information. The FCC assigned 511 to the transportation community July 21, 2000, replacing more than 300 different traffic information phone numbers.

Florida's first 511 system went live June 2002 in Central Florida. The Southeast Florida system went live July 2002. The 511 Tampa Bay system launched September 2004. The first-generation Statewide Florida system launched November 2005. The Northeast Florida 511 system launched October 2006 and Southwest Florida 511 launched April 2007. The current Statewide FL511 system launched June 2009, combining all of the regional systems.

Starting in 2016, FDOT updated the FL511 mobile app several times with more of the features users need, including point-to-point directions; better personalized notifications, ability to have the app speak information to drivers (Drive Mode) and more recently, introduced a voice interaction feature where the user can speak commands to the app.
Is there a charge for using FL511?
No. It is a public service. FL511 is a valuable resource for motorists which is provided by FDOT. FL511.com is a great website to visit, the app is an invaluable download, and there is no charge for signing up for My Florida 511 personalized services.
Why are you updating FL511?
The updates we introduced into our system are a result of analyzing our ongoing 511 user satisfaction survey responses. Many of the new features are the result of FDOT research and user suggestions. We wanted to improve the user experience and provide more powerful ways to access the information that betters motorists' commutes.
How do I change the website language?
The Florida 511 website is available in English and Spanish. On the top right side of the website, there is a tab that will state the language currently being used (English or Español) and you can toggle between them. If you have notifications set up, they will come through in the language to which the website is currently set.
What travel information is available on FL511?
The Florida 511 website and mobile app give real-time travel reports on Florida interstate highways and toll roads including Florida's Turnpike, Miami-Dade Expressway Authority roads and Central Florida Expressway Authority roads; and other major metropolitan roadways. It also provides weather forecasts and severe weather notifications from the National Oceanic and Atmospheric Administration (NOAA). The mobile app provides directions with travel times for specific routes. The website offers one or more routes to destinations. Drivers can follow any of the statewide, regional or roadway-specific Twitter feeds (#FL511), such as @FL511_Northeast, @FL511_I10 and @FL511_I95. Also, follow us on our Facebook page, @FL511, and our new Instagram page, @Florida_511.
How often is the information updated?
Information is updated on an ongoing basis as incidents occur and situations change on roadways. Travel times are automatically updated every few minutes around the clock.
How is the information collected?
The Florida 511 source data is SunGuide. FDOT has deployed intelligent transportation system (ITS) technology on Florida interstates and toll roads, including Florida's Turnpike; and many other major metropolitan roadways. FDOT partners – the Central Florida Expressway Authority and Miami-Dade Expressway Authority – have also deployed similar technology along their expressways. Regional Traffic Management Centers (RTMCs) collect information about roadway conditions throughout Florida.
Why is there no report on FL511 about a crash I see beside the highway?
It takes time for accurate traffic incident information to be collected, verified and posted to FL511. Much incident information is reported to Regional Traffic Management Center (RTMC) operators by Florida Highway Patrol, Road Rangers or local law enforcement. RTMC operators must collect and verify that information, often using FDOT traffic cameras to visually inspect a crash scene. Once they have the information they need, it is entered into FDOT's SunGuide® Advanced Transportation Management Software (ATMS). From there, data from all over the state is collected into one database, then sent to FL511 to be added to the website, mobile app, twitter and personalized services reports. This process can take up to several minutes from the time an incident is first identified to the time information about it is available on FL511.
How does the information available from FL511 differ from the travel information I get on the radio and television?
Florida 511 provides route-specific information, and motorists will be able to access the information on demand, whenever needed. Additionally, with My Florida 511 text and e-mail notifications, users can receive a text message or e-mail notification when there is an incident on their personal routes. Also, travelers can find out what traffic will be like by visiting FL511.com, downloading the mobile app, or following any of the statewide, regional or roadway- specific Twitter feeds (#FL511), such as @FL511_State.
How are roads chosen to be covered by FL511?
Generally, FL511 provides information on roadways which FDOT is able to manage with its network of sensors and cameras. FL511 covers the most-traveled roads in each region of the state. FDOT is committed to providing drivers with accurate, real-time traffic information.

The new Florida 511 system provides secondary coverage, which allows users to be given point-to-point travel times based on traffic-speed data provided by HERE.

FDOT is constantly expanding its traffic monitoring network and will add new roads to FL511 as resources become available.
What public safety alerts are carried on the FL511 system?
The public safety alerts carried on 511 are voluntary, cooperative partnerships among law enforcement, FDOT, other agencies and local broadcasters. FDOT uses overhead electronic message signs and FL511 to get public safety alerts out to the public.

AMBER Alert is the name of the nation's child abduction alert system. AMBER stands for "America's Missing: Broadcast Emergency Response." It is designed to notify the public when a child has been abducted and is believed to be in serious danger.

Silver Alerts are designed to notify the public and law enforcement agencies to be on the lookout for missing adults or citizens with cognitive impairments. This program is especially targeted to protect adults with Alzheimer's disease or other forms of dementia.

Blue (formerly known as LEO or Law Enforcement Officer) Alerts provide important information about an offender(s) who has seriously injured or killed a law enforcement officer.
Is FL511 compliant with the Americans with Disabilities Act (ADA)?
The 711 Telecommunications Relay Service allows the deaf and hard-of-hearing who use telecommunications device for the deaf (TDD) to access the voice recognition and response features of FL511. The FL511 website, FL511.com, is text based. No flash animations or plug-ins are used. Additionally, all maps on FL511.com are configurable to use colors that are discernable to the colorblind.
How can I report technical difficulties with the new FL511 system?
FL511 relies on users like you to provide us with as detailed as possible feedback on any issues you may be experiencing so that we can further improve how we serve you. Please leave us your feedback by filling out the Contact Us form.
How can I help make the system better?
FDOT encourages you to use the system on all of its platforms (i.e., website, mobile applications, and social media (Twitter, Facebook, Instagram)) and provide feedback on how to improve the system to better serve Florida drivers. Feedback is always welcome, so if you have a specific suggestion about how FDOT can improve, leave your comments here.
How do I sign up for My Florida 511?
If you have not already signed up for the new My Florida 511 system, click the Sign Up button at the top right of the webpage.
Create a new login with your name and email address. You will receive an email with a link to opt-in for the email notifications.
Name and email address are required to sign up for personalized notifications.
Optional: Enter your phone number to access SMS/text notifications. You will receive a code via text to opt-in for text notifications.
Optional: Enter your home address
If you have already signed up (and confirmed your email address), click on "Login" at the top of the homepage. Enter your email address and password. Click "Remember Me."
Please click on Sign Up at the top of the home page to update your account.
What are My Florida 511 Personalized Services?
My Florida 511 personalized services use push technology to deliver real-time roadway updates when you want them, without having to check FL511.com or the mobile application. When signing up for My Florida 511 free personalized services, you can customize your frequently traveled routes. You can also choose the time of day and day of the week you'd like to receive roadway updates and the type or severity of incident you want. My Florida 511 will then send you a text or e-mail based on your customized profile. Standard cell phone minutes and text message charges may apply.
Personalized services available:
Sign up for a free account
Create custom routes and sign-up to receive travel information regarding your routes
Free Personalized Notifications

FL511 will notify you about unusual roadway conditions
Program notifies by time, day and severity of conditions
Receive notifications by e-mail or text message
Why do I need to provide a phone number?
Providing a phone number is not required. Once you create a free custom profile with My Florida 511 Personalized Services, providing your phone number will enable you to hear information about your customized routes. Your custom profiles will be associated with your phone number.
Will I have to enter this information every time I log in to My Florida 511?
Once you've created your account, you only need your username and password to access the system. You can edit or update your password and information anytime you log in. You can also check the "remember me" box to stay logged in until you manually log out.
What are My Routes?
My Routes is a new feature on FL511.com. It also allows you to enter two locations to get point-to-point driving directions. Florida 511 will provide you with up to three route options, showing travel times and incidents along those routes.

Registered "My Florida 511" users can save the route by entering a name and clicking "Save".
What information will My Florida 511 give me about routes?
The information includes travel times, incidents and crashes, construction, lane closures and severe weather affecting traffic.
What do I do if I forget my personalized route names?
The FL511 system allows you to speak a request. Simply ask for "help" and the system will read your list of personalized routes. This is also a good way to learn how the FL511 system pronounces your route names, so that FL511 can understand you when you ask for certain routes.
What are notifications?
Notifications can be sent to you via e-mail or text message to let you know when an incident affects your customized routes. Sign-up for the following types of notifications:

Emergency alerts: receive weather watches, warnings, advisories; wildfire alerts; high wind advisories; AMBER, Silver and LEO alerts, etc.

Travel time: receive a notification when travel time for your route increases

Traffic speed: receive a notification when the average speed along your route decreases

Events: receive incident, construction, road and bridge closure notifications
How can I create and customize a notification?
On the home page, click the "My Florida 511" tab and select "Manage Routes & Notification."
First, create a saved route:

Click "Create New Route"

Enter the starting point address in the text field labeled "A"

Enter the destination address in the text field labeled "B"
Enter a route name and click "Save"

You may also elect to create a notification for a saved route.

Under "Manage my Routes," select "Create Route Notification" next to your saved route.
The next window includes information needed to save your notification.
Name your notification.
Specify the following options:

Travel Time

The first drop-down menu is for travel time notifications. Here, you can choose to be notified if your point-to-point travel time increases by 10 percent, up to 90 percent.

Traffic Speed

This drop-down menu will allow you to select speeds along your route. You will be notified when that speed occurs.

Events* and Notification Type(s)*

Events include incidents, construction and closures. You can be notified of these along your route. The next drop-down menu, "Notification Type(s)," sets the system to notify you when the events occur, when the system has an update about the event, and/or when the event is cleared, or all three.

Days of the week and time period

You can choose which days and times you want to receive these notifications in the next drop-down.

Daily Notification

Decide when, if ever, you want a daily summary notification.

Delivery Options

You must choose whether to receive these notifications by email or by text message. Standard text rates apply.

Then, subscribe to an emergency alert:

On the "Manage Routes & Notifications" page, select "My Alert Notification".
Select whether you would prefer text or email notifications and in which region you will be driving.
Click "Subscribe to Emergency Alert".
Why am I not getting personal notifications anymore?
The new Florida 511 personal notifications system is using updated mapping, travel times and notification technology. We were not able to transfer previous subscriber data to the new system, so all users must recreate their profile and preferences. We understand that this is inconvenient, and we sincerely apologize, but we know you'll be happy with the new My Florida 511 personalized notifications.
I haven't received my confirmation email yet.
Due to AOL's very strict spam filters, FDOT recommends using a different email provider for My Florida 511 personalized notifications. Many AOL users have reported not receiving their confirmation emails or notifications when using an AOL email account. FDOT continues to work with AOL, and other major email providers, to ensure reliable delivery of My Florida 511 personalized notifications.

If you did not use an AOL account to sign up, please fill out the form on the Contact Us page and we will resend the confirmation email.
I received the code for my phone, where do I use it to finish signing up
Once you receive the code via text, please log into your account and go to the Manage Account page. Once there, click the Verify Phone Number button. You will be able to add your code there.
I never received my phone verification code.
Please log into your My Florida 511 account and verify you entered the correct cell phone number by going to the Manage Account page. There will be a button labeled Resend SMS/Text Confirmation Code that you can click.
Why can't I sign in to My Florida 511?
The most common reason for not being able to sign in to My Florida 511 is that your browser is not set to accept cookies. A cookie is a small text file that may be used, for example, to collect information about website activity. Most web browsers allow you to control cookies, including whether or not to accept them and how to remove them. The "Help" menu on most browsers will tell you how to prevent your browser from accepting new cookies, how to have the browser notify you when you receive a new cookie, or how to disable cookies altogether. However, cookies allow you to take full advantage of some of the website features. You must leave cookies turned on to sign in and use My Florida 511. If cookies are turned on in your browser and you are still unable to sign in, send us a note on the Contact Us page. Include as much information as you can about your account. Include your email address so we know how to contact you.
What do I do if I can't access my account to change or delete it?
If you cannot access your My Florida 511 web account because you have forgotten your password, simply click 'Forgot your password?' on the login page. You will be prompted to enter your email address. If you are still having difficulties, please fill out the form on the Contact Us page. Since we do not have access to your confidential password and secret question and answer, we will have to delete the existing account. You will then need to create a new account to begin or continue using My Florida 511.
Why doesn't my mobile application have traffic information anymore?
We used a different app development company to implement the new Florida 511 Mobile App. Unfortunately, this precludes us from simply updating the app. The development and maintenance agreement with the previous company is no longer valid, and so the original app no longer functions. That means users like you will have to download an entirely new app through either Google Play store or Apple App Store.
How do I get my new Florida 511 mobile application?
Depending on the type of mobile device you use, you'll either go to the Google Play Store or Apple App Store. Simply search for "Florida 511" and download, choose the app from the Florida Department of Transportation (FDOT) and install it. Don't forget to uninstall the old Florida 511 app, as it no longer functions.
What is available on FL511.com that was not available by calling 511?
From FL511.com, you can view traffic cameras under the "My Cameras" feature. You can also consult the state map on the home page for detailed roadway conditions. FL511.com also provides door-to-door navigation and weather forecasts. FL511.com also allows users to sign up for free My Florida 511 personalized services.
Modifying route to avoid closure
Click on the route segment near the closure and drag the waypoint away from the closure. More than one waypoint may be needed to avoid the closure.
Route with Closure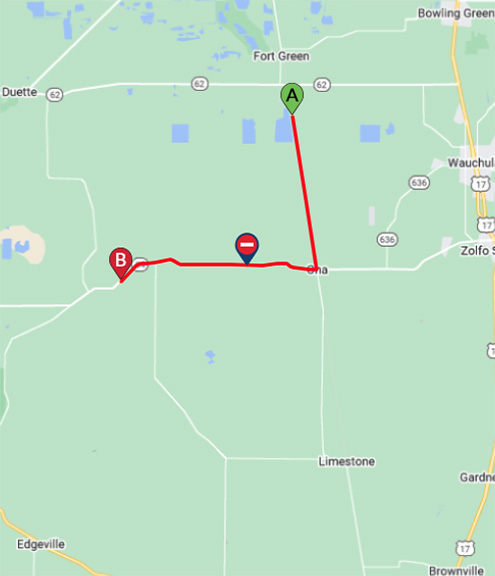 Using waypoint to route around Closure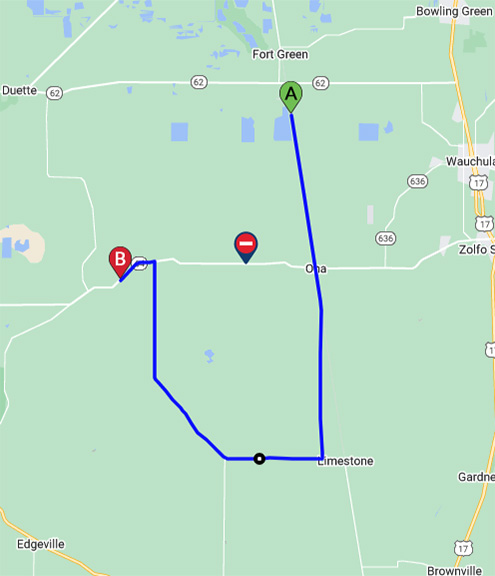 What's the best way to use the Florida 511 Twitter feeds?
FL511 has multiple Twitter accounts specific to regions or roadways in addition to statewide accounts in both English and Spanish. You can follow the regions and roads that are closest to you or your frequent routes. The statewide account includes all the information sent out by the other accounts. Tweets are also sent out about emergencies or special events in the area. Feel free to like and retweet to let your followers know about traffic conditions.
Why hasn't anyone from Florida 511 responded to my tweet?
FDOT does not respond to tweets. If you have questions or comments, please use the form on the FL511 Website Contact Us page. If you'd like to report an incident, please call *FHP (*347) to reach the Florida Highway Patrol or dial 911. Any other questions or concerns can be sent via the Contact Us page.

Be sure to "Like" and "Follow" the Florida 511 system on our Facebook page (@FL511) and our Instagram page (@Florida _511) where you will receive news, events and updates on events and activities throughout around the state.